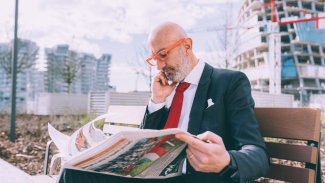 Black Swans: Short-term Volatility, Long-term Opportunity
Considering the high levels of uncertainty, what should investors do?
Buy on Fear, Sell on Greed?
Legendary investor Warren Buffet is a big proponent of this strategy. When others are greedy—typically when prices are boiling over—assets may be overpriced. On the flipside, there may be good buying opportunities when others are fearful. 
Most importantly, investors need to remain disciplined with their investment process throughout the volatility. History has shown that markets will eventually recover and may reward patient investors.
Few investors could have predicted that a viral outbreak would end the longest-running bull market in U.S. history. Now, the COVID-19 pandemic had pushed stocks far into the bear market territory. From its peak on February 19th, the S&P 500 fell almost 30%.
While volatility can cause investors to panic, it's helpful to keep a long-term perspective. Black swan events, which are defined as rare and unexpected events with severe consequences, have come and gone throughout history. We explore the sell-off size and recovery length for some of these events.
With selloffs ranging from -5% to -50%, black swan events have all impacted the S&P 500 differently. Here's a look at select events over the last half-century:
Wars, Viruses, and Excessive Valuations
 *The sell-off measures from the market high to the market low. 
While the declines can be severe, most have been short-lived. Markets typically returned to previous peak levels in no more than a couple of months. 
Important Disclosures
The opinions voiced in this material are for general information only and are not intended to provide specific advice or recommendations for any individual.
Investing involves risks including possible loss of principal.
Past performance is no guarantee of future results.
S&P 500 Index: The Standard & Poor's (S&P) 500 Index tracks the performance of 500 widely held, large-capitalization US stocks.
All information is believed to be from reliable sources; however LPL Financial makes no representation as to its completeness or accuracy.
This article was prepared by FMeX.
LPL Tracking #1-05268000